🎭 A week full of theatre in Lisbon
👩‍🦰 Discover an enthralling article penned by our participant, Andriana-Anna Tsiotsiou.
Delve into Andriana's vivid impressions as she took part in a captivating week filled with theatre in the charming city of Lisbon, as part of the esteemed Theatre In Palm project.

We highly recommend reading about her experience in the beautiful city of Lisbon below!
📍 Don't miss out on her captivating insights and stay tuned for upcoming Theatre In Palm events!
Making brave dreams come true – across Europe.
🎭We invite you to join us in Theatre Palm project and let's support together emerging artists and help them shine on an international stage!
#cubenonprofit #theatreinpalm #CreativeEurope #theatreplatform #emergingartists #futuretheatre #bravestories #emergingartistsplatform #HelpNewArtistsShine #internationalnetwork #TheatreAcademy #JAFest2023
"A week full of theatre in Lisbon"
The journey started already in February 2023, when I "suddenly" found myself being a part of the online residency organized by Theatre In Palm, where five young artists from Greece had the opportunity to work together, remotely, with other artists from Bulgaria and Belgium, based on Antigone, Sophocles.
Thanks to it, two weeks ago, April 10th to April 15th, I had the chance to travel to Lisbon, Portugal, in order to participate to the Theatre Academy which was again organized by Theatre in Palm and took place during the JAFest23, which was geared toward young European artists of performing arts.
As soon as the plane landed and I stepped out, a week full of new adventures was starting! Firstly, I joined Elena Vertegel's moving workshop which was a great idea to begin with as it really 'shaped' the energy of the whole week. What I earned from the workshop were some very useful tools for my own performances with my two theatre groups, in Greece.
Later on, I had the chance to meet and collaborate with interesting people at the Puppetry Workshop taught by Maiju-Karolina Tainio. In this 3day long workshop we had the opportunity to express ourselves in different ways than we normally do, feel free and come up with stories starting from an inspiration of the moment and then perform them with our ball-head little puppets. Also, we created our own puppets using kraft paper and of course brought them to life!
Continuing, another really nice workshop was the one about Set Design, taught by Miguel Sa Fernandes. There, we had to work on the play No Exit written by Jean-Paul Sartre and build a "step one" model of the scenography we would use to perform the play. The interesting part was not only working on my model but also listen to the other participants' ideas and how different they all were even if they were about the exact same play in the exact same place. Starting from the presentation of my idea, which I'm so glad to say that the professor found really innovative and the discussion that followed, I have earned some knowledge that will make me better as a dramaturg while I collaborate with directors.
Last but surely not least, I feel very grateful that I attended also the Poetry Film workshop with the filmmaker Janet Lees. There I had the chance to see something completely new for me. That was making movies with very simple tools like even the camera of our cellphones, using poems, sounds and images! During the workshop we had the time to talk about this new genre of cinema and discuss the works of some participants and other artists. This course gave some really good food for thought to see what to do next with my art!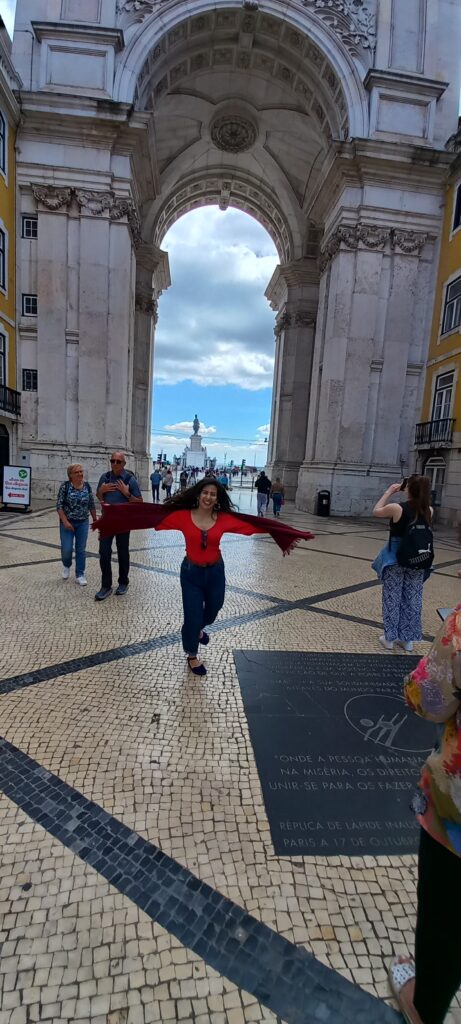 Apart from all those great workshops, JAFest23 and Theatre Academy didn't lack at all the most important thing in a festival: the networking events! The organizers and especially Suresh Nampuri and Georgia Beckmann had arranged for us meetings at Teatro do Bairro, where we had the time and the space to meet each other, talk and exchange ideas about art and the contemporary situation of it. Also, there were some great performances staged for us by artists from different countries. This helped us not only to recognize the work done and the level of the artists (who were also participants in some situations) but also to realize that all of us there really had something in common and this was the love for our art.
Furthermore, they had scheduled for us a tour based on the poet Fernando Pessoa guided by the contemporary poet Chiara Chrisafouli who talked to us about the distinctive -almost quirky- personality of Pessoa, shared details about his life and read with us some of his nicest poems.
To end with, the level of the workshops was not too difficult so that everybody could participate in any of them easily but except of all the "impedimenta" that everyone of us got during the festival, I think that the most important was the fact that we met and came close with amazing people, with whom we share the same art and we made our own little teams and dream together about future collaborations!
A big thank you to everybody who thought about this week in Lisbon and to all of them who made it amazing!
Andriana-Anna Tsiotsiou.